Laundromat in Alexandria, IN
Lisa's Laundromat has been the place residents take their clothes for more than 60 years! We offer all of the laundry amenities you need, including modern washers and dryers, detergent and dryer sheets, vending machines and more. Visit our high-visibility location in Alexandria, drop a coin and get your laundry started today. Modern Laundry Amenities
We are open 24/7 and accepts credit and debit cards. It also has free Wi-Fi for all customers.
Full-Service Laundry
Are you the type of person who puts off laundry day until the last possible day, because you hate dealing with it? We don't blame you—doing laundry is a pain! That's why Lisa's Laundromat tries to make it easier on all of our customers. As a self-service laundromat, we give you everything you need to get in, get your laundry done and get out, as quickly and conveniently as possible—whether you've got one load or multiple.
We operate one location, offering a high visibility location for laundry service in Alexandria, IN. We invite you to give us a try next time your hamper fills up and see why customers have been trusting us with their laundry since 1960! We promise a laundry day that's fast, easy and hassle-free.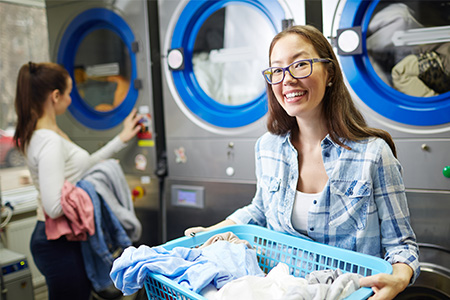 Sud Your Duds
The next time laundry day comes around, pack up your clothes and head to our convenient location. We promise to make your laundry experience a good one!
A laundromat that you can rely on
All of the coin-operated units at our laundromat are well-maintained and ready to handle even your largest load. Plus, they won't leave you with soggy clothes or burn marks like other self-service dryers might!
Forgot your detergent? We've got that too, along with dryer sheets for sale to keep your clothes coming out soft and fresh. We even have vending machines, so you can grab a snack or something to drink while you wait for the buzzer to go off.
One convenient location, in Alexandria, IN. Full-service location with high visibility.
We have detergent and dryer sheets available for purchase, offering maximum convenience.
We pride ourselves on providing a clean, safe environment for all our customers. All of our equipment is up to date with modern features, kept in great operating condition.
We've been serving the laundry needs of local-area customers for more than 60 years and take pride in our reputation for excellence.
We Sell The Following Products On Site Vending Machine
Local Laundry Spot
Proudly providing Laundry Services for residents of the following areas:
Frankton, IN
Summitville, IN
Gaston, IN
Anthony, IN
Muncie, IN
Yorktown, IN
Daleville, IN
Anderson, IN
Lapel, IN
Noblesville, IN
Cicero, IN
Arcadia, IN
Tipton, IN
Windfall, IN
Fairmount, IN
Madison County, IN
Hamilton County, IN
Tipton County, IN
Grant County, IN
Delaware County, IN